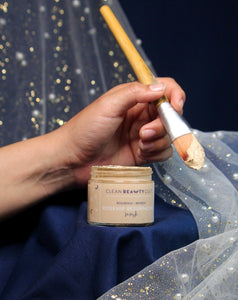 Resurface + Refresh
This mild exfoliant uses spherical jojoba beads and enzymatic exfoliant Bacillus ferment to gently and evenly exfoliate the skin. Licorice root aids in brightening dull skin and geranium oil helps to heal broken capillaries. This is the perfect two in one exfoliant because it uses enzymatic exfoliation AND physical exfoliation. We lovingly refer to this as our weekly at-home microderm treatment. 
USAGE: Apply to skin in circular movements and let sit for 10 minutes. Remove with warm water. For deep exfoliation, massage for longer. Use 1-2x's per week
Ingredients:
Aqua, Prunus Amygdalus Oil (Almond),Olea Europea Oil (Olive), Emulsifying Wax NF, Simmondsia Chinensis (Jojoba) Seed Oil, Jojoba Beads, Rosa Rubiginosa Oil (Rosehip Seed Oil), Glycyrrhiza Glabra (Licorice) Root Extract, Bacillus Ferment,Vitamin E, Rosehip Powder, Geranium EO, Phenoxyethannol, Caprylyl Glycol, kaolin clay
SIZE: 2oz.