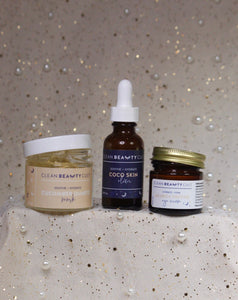 Are you looking to step up your cult-worthy beauty routine?
Our add-on kits are the perfect way to give your skin some special treatment outside of your classics.
This kit includes one of each of the following:
Cucumber Quartz Mask
Coco Skin Elixir
Arabica Peptide Eye Cream
Cucumber Quartz Mask
Minerals, electrolytes and amino acids combine beautifully in this mask to help restore moisture and soothe irritation. Perfect post-peel and post-sunburn or as a weekly skin-nourishing treatment!
USAGE:​ Apply 2x's per week after cleansing the skin. Let sit for 10 minutes before removing with warm water. Apply toner and moisture cream once mask has been removed.
SIZE: 2.0oz
Coco Skin Elixir
Bring the tropics to your everyday skincare routine with this hydrating serum that combines Jasmine, Coconut Water and Hyaluronic Acid to leave your thirsty skin quenched and dewy.
USAGE: 
Apply serum day and night to freshly cleansed and toned skin.
SIZE: 
1.0oz
Arabica Peptide Eye Cream
Fortify and gently brighten delicate eye tissue using this triple-plant peptide cream rich in vitamins, minerals and natural antioxidants.
USAGE: 
Gently apply eye cream to under eye area using alight smoothing & tapping motion. AM/PM
SIZE: 
.85 fl oz glass jar