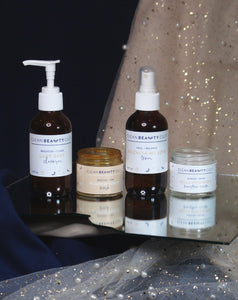 Missing glowing and radiant skin? Avail top quality anti-aging facial kits from us for youthful skin.
Get the natural age reverse skin nutritious kits prepared from organic ingredients to get radiant skin
This cult classic includes one of each of the following:
Pumpkin Purity Mask
Lady Grey Cleanser
Valencia My Love Toner
Hella Hydration Moisture Cream
Pumpkin Purity Mask
This active mask stimulates cellular regeneration with a gentle 5% glycolic exfoliation. Vitamins & bioflavonoids boost hydration levels and help even skin tone. Compliments Mature, dry, and acneic skin types
USAGE:
Apply 1-2x's per week with a mask brush or fingers. Let it sit for 10 minutes. Remove with warm water. Tingling may occur.
SIZE: 
2oz.
Lady Grey Cleanser
Deeply cleanse, brighten and soothe your skin with this sulfite free foaming cleanser! Great for acneic and oily skin, but all skin types can enjoy this refreshing cleansing elixir.
USAGE: 
Apply dime-sized amount to your palm and add a little warm water. Rub hands together until light foam occurs and apply to your skin in circular motions. Remove with warm water. AM/PM
SIZE: 4 fl oz. 
Valencia My Love Toner
This alcohol-free toner will remove trace residue from skin without drying it out. Compliments all skin types, but especially oily and acneic
USAGE: 
Apply it to skin directly after cleansing. AM/PM
SIZE: 4 fl oz. 
Hella Hydration Moisture Cream
This enriching evening primrose oil cream is rich in gamma linoleic acids which are known for their anti-inflammatory and antioxidant properties and their ability to improve skin elasticity and combat infection. Great for Acne, Rosacea, signs of aging, Eczema, and skin ulcers. Scent Free
USAGE: 
Dab and spread onto your face after you cleanse, exfoliate and tone your skin
SIZE: 
2.0oz