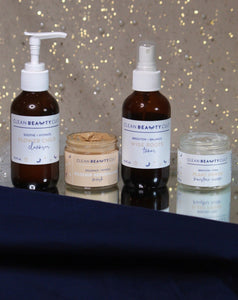 Are you worried about aging skin?  
Our cult classic kits are the perfect way to nourish and rejuvenate your skin.   
This cult classic includes one of each of the following:
Rosehip Resurfacing Mask
Flower Child Cleanser
Wise Roots Toner
Plant Power Moisture Cream
Rosehip Resurfacing Mask
This mild exfoliant uses spherical jojoba beads and enzymatic exfoliant bacillus ferment to gently and evenly exfoliate the skin. Licorice root aids in brightening dull skin and geranium oil helps to heal broken capillaries.  
USAGE: 
Apply to skin in circular movements and let sit for 10 minutes. Remove with warm water. For deep exfoliation, massage for longer. Use 1-2x's per week
SIZE: 
2oz.
Flower Child Cleanser
Gently cleanse your day away using this silky gel-to-foam cleanser.  Compliments all skin types.
USAGE: 
Apply dime-sized amount to your palm and add a little warm water. Rub hands together until light foam occurs and apply to your skin in circular motions. Remove with warm water. AM/PM
SIZE: 4 fl oz. 
Wise Roots Toner
This powerful yet soothing antioxidant toner is designed to gently brighten, hydrate and soothe the skin. Compliments ALL skin types, but especially great for sensitive and/or aging skin.
USAGE: 
Apply to skin directly after cleansing. AM/PM
SIZE: 4 fl oz. 
Plant Power Moisture Cream
This non-greasy moisture cream uses vitamins, plant peptides and sensolene to deeply hydrate the skin while also combating the signs of aging.  
Best skincare kits for dry skin from Clean Beauty Cult and get flawless skin.   
USAGE: 
Dab and spread onto your face after you cleanse, exfoliate and tone your skin! 
SIZE: 
2.0oz